Eastern Ratsnake
Pantherophis alleghaniensis
** Harmless **
Common Name:
Eastern Ratsnake
Scientific Name:
Pantherophis alleghaniensis
Etymology:
Genus:
Pantherophis is derived from the Greek words "pan" which means bread, referring to the bread loaf, cross-section shape of the snake, "thero" means a wild beast of summer and "ophis" means snake.
Species:
alleghaniensis refers to its habitat in the Allegheny Mountains.
Vernacular Names:
Alleghany black snake, black chicken snake, black Coluber, black pilot snake, black racer, blue racer, chicken snake, mountain black snake, mountain pilot snake, pilot, racer, rat snake, rusty black snake, scaly black snake
Average Length:
42 - 72 in. (106.7-183 cm)
Virginia Record Length:
79.8 in. (202.8 cm)

*Note: The eastern ratsnake is the only 6+ foot snake found in Virginia

Record length:
101 in. (256.5 cm)
Description
Neonates and juveniles are boldly patterned with 28-40 dark blotches on a gray background. A dark diagonal eye stripe extends from in front of the eye and runs to the margin of the mouth. The dorsal pattern remains discernible almost down to tail tip. The juvenile dorsal pattern usually fades to a solid black as the snake approached 3 to 4 feet in total length. However, in some individuals a slight hint of the juvenile pattern my be retained for life. The juvenile eastern ratsnake pictured below is approximately 16 in. in total length.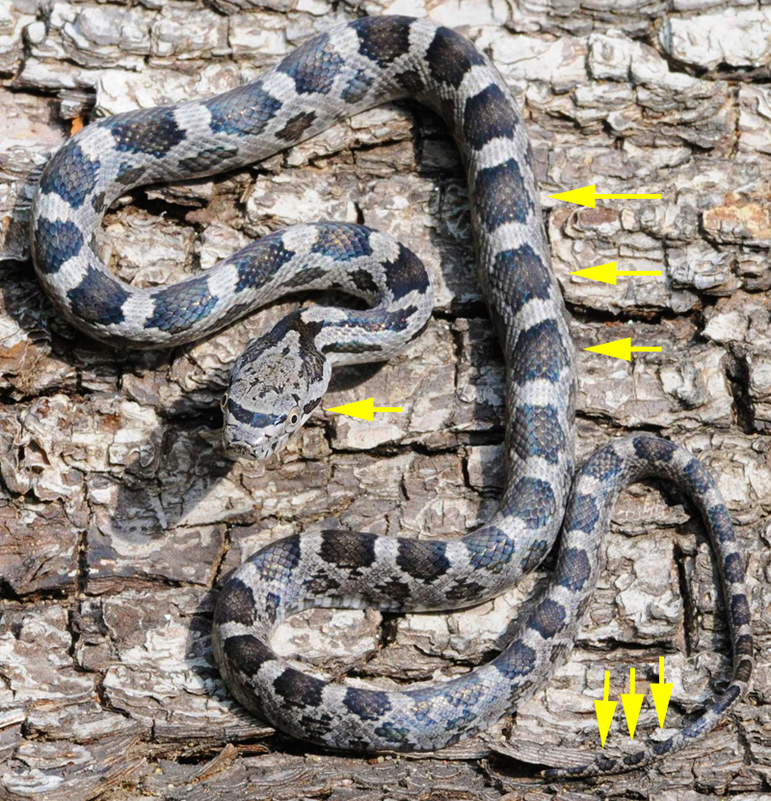 The eastern ratsnake pictured below is 2 ft. in total length. While both dorsal pattern and eye stripe are fading, they are still discernible.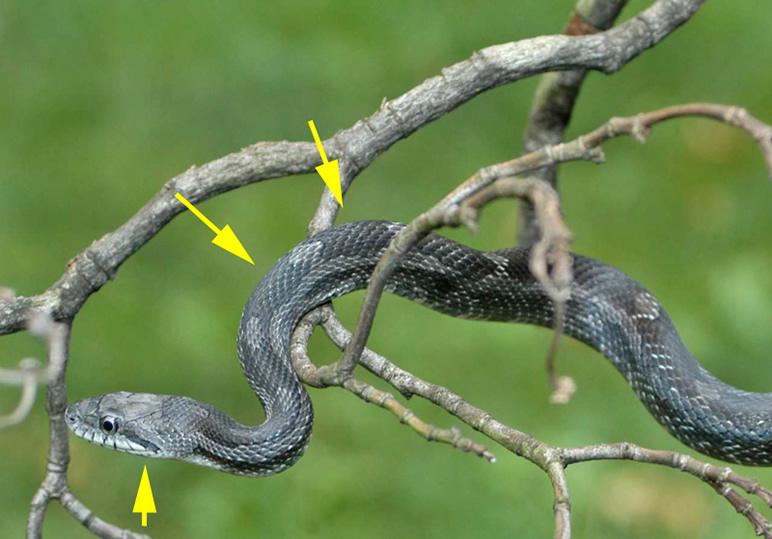 The specimen pictured below has reached 3 ft. in total length. The eye stripe and dorsal pattern are almost completely obscured.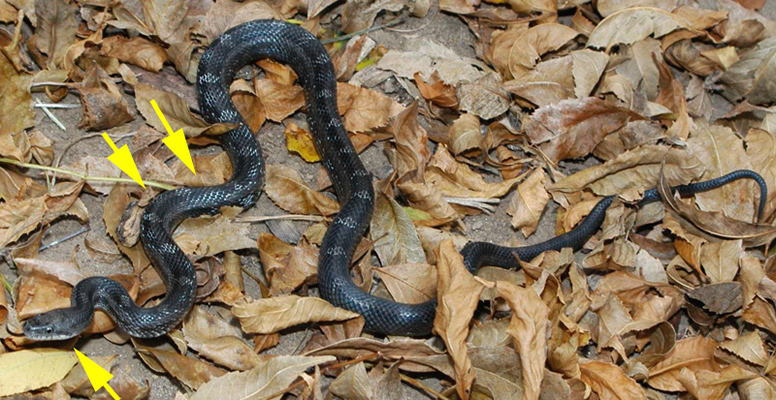 The below 5 ft. specimen has a completely black dorsum.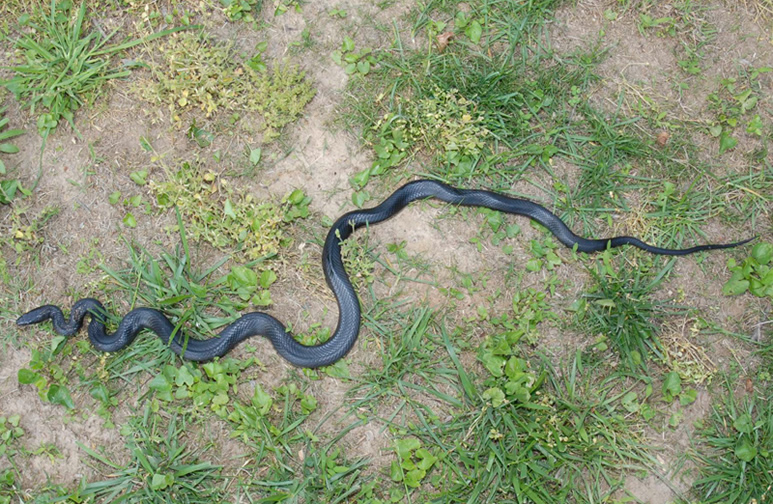 Note the lack of eye stripe and the weakly keeled scales in the adult eastern ratsnake pictured below.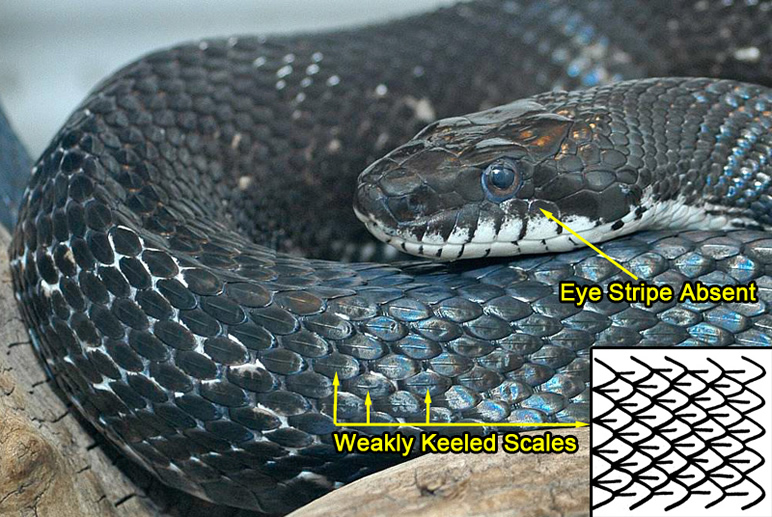 The venter (belly) of the eastern ratsnake is black and white, often resembling a checkerboard pattern with interspersed black blotches. This pattern fades as it approaches the posterior. In the cross-section the body shape of the eastern ratsnake is shaped similar to that of a loaf of bread.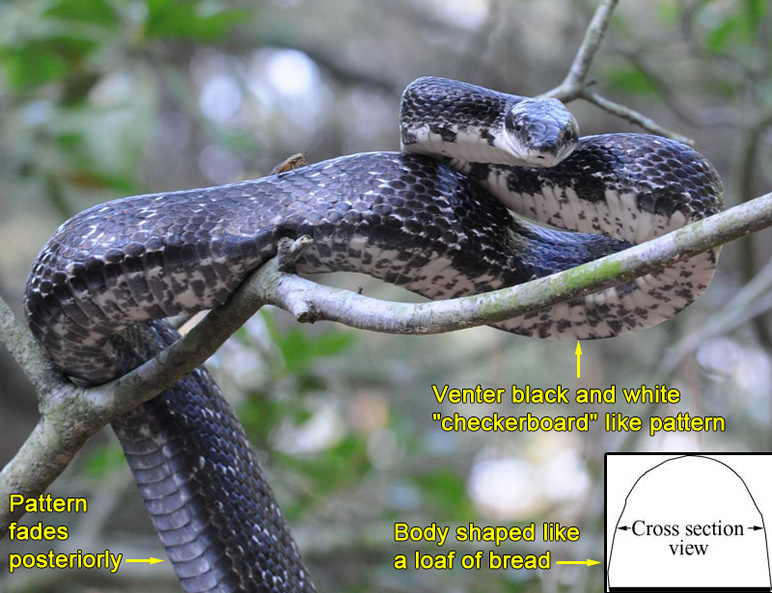 Defensive Behaviors
As with all our native snakes the eastern ratsnake would rather flee than fight. However, if the snake feels cornered it will bite. In an effort to appear more formidable, the eastern ratsnake distort the shape and size of its head when threatened.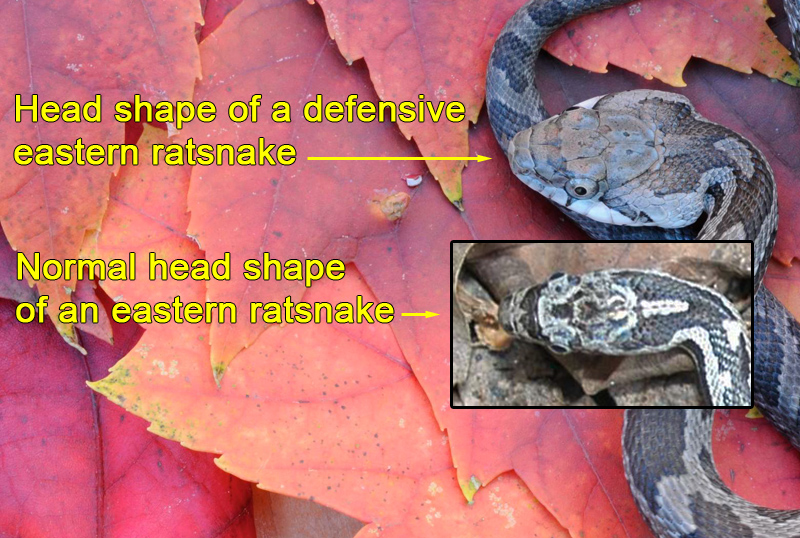 Another defensive strategy involves the ratsnake raising the front portion of its body off the ground in a 'S' shape coil. This makes the snake look more formidable and increases the snake's effective striking range. It's not uncommon for the snake to hiss loudly as it strikes from this position.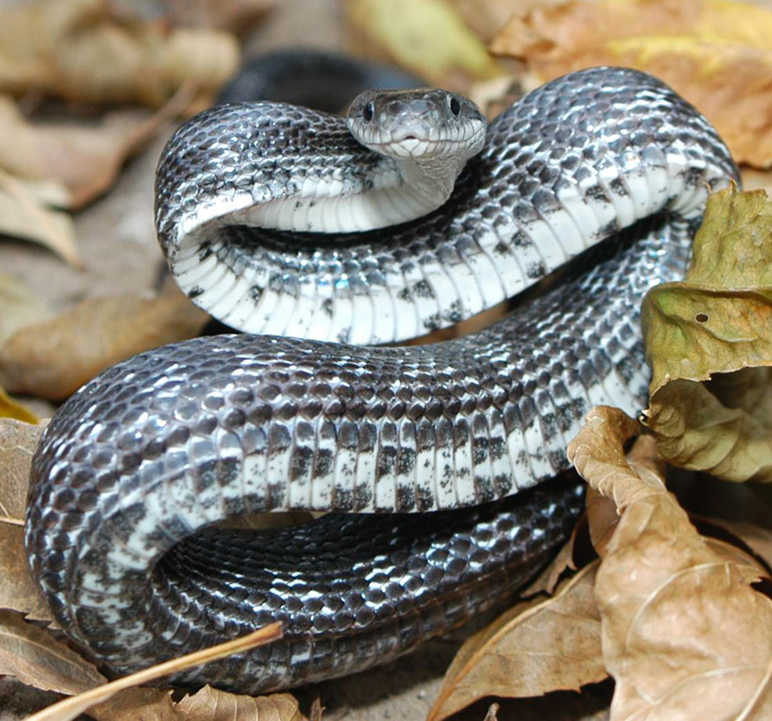 Video of an eastern ratsnake vibrating tail - [Coming Soon!]
Confusing Species
The species most often mistaken for an eastern ratsnake in Virginia is the northern black racer. Both the eastern ratsnake and the northern black racer have a juvenile pattern that does not resemble the adult version.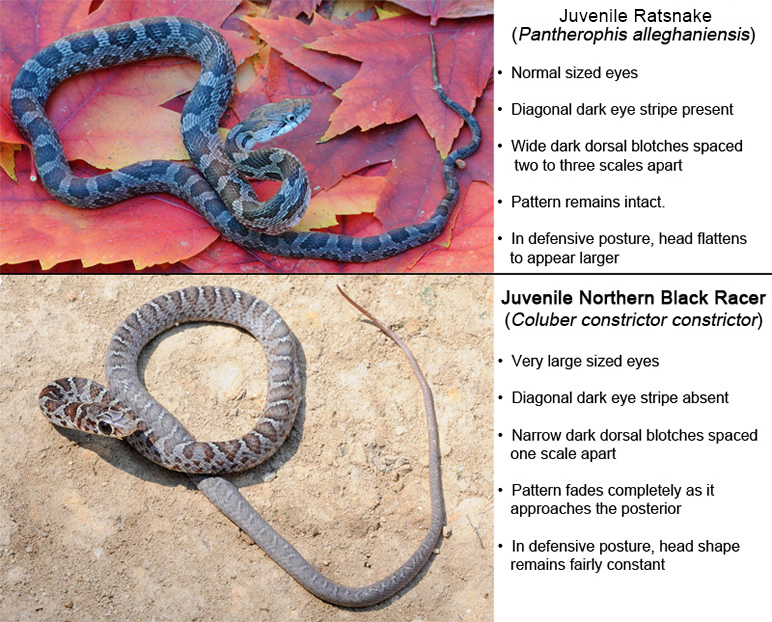 Unlike the eastern ratsnake which has weakly keeled scales, the scales of the northern black racer are smooth. Both the eastern ratsnake and the northern black racer have a whitish chin and neck.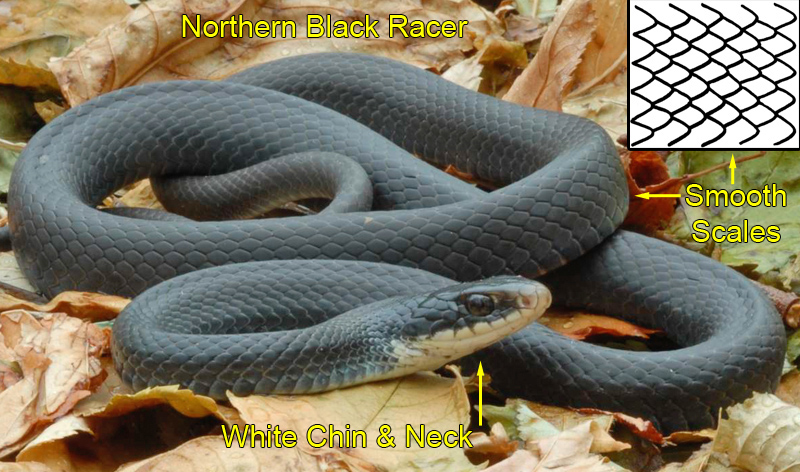 Unlike the checkerboard pattern found on the ventral side of the eastern ratsnake, the venter of the northern black racer is a solid dark gray that changes to a light gray under the tail.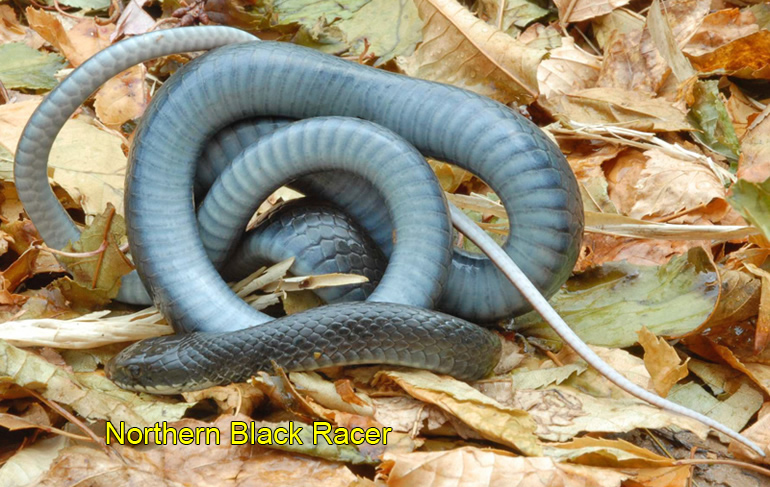 Virginia Fish and Wildlife Information Service: Species Booklet
Photos:
*Click on a thumbnail for a larger version.
A juvenile Eastern Ratsnake eating a Gray Treefrog
in Bedford Co.

A juvenile Eastern Ratsnake eating a Gray Treefrog
in Bedford Co.

Pittsylvania Co.

Chesapeake , VA
Unusual striped specimen

Chesapeake, VA
Unusual striped specimen

Frederick County
Unusual patterned
specimen

Frederick County
Unusual patterned
specimen

Frederick County
Unusual patterned
specimen