Mediterranean Gecko
Hemidactylus turcicus

(Introduced Species)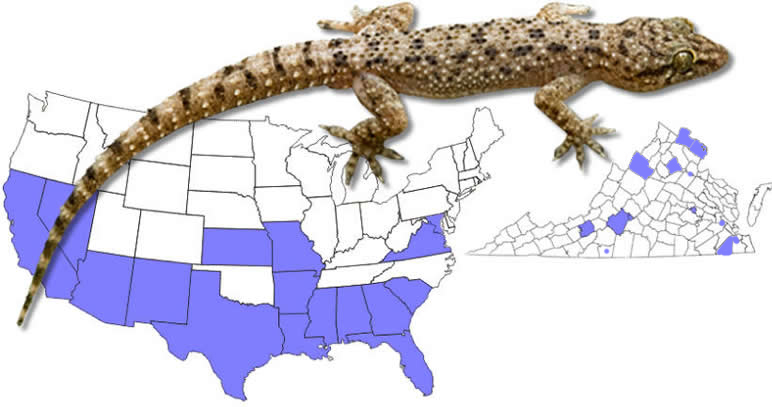 The Mediterranean Gecko (Hemidactylus turcicus) is an introduced lizard that has become established in the southern states and in Virginia isolated populations have been identified in the following areas as of 11 Oct. 2012:
Alexandria
Ashburn
Bedford
Culpepper
Fredericksburg
Lynchburg
Martinsville
Montgomery
Mount Crawford
Portsmouth
Richmond
Springfield
Suffolk
Williamsburg
Mediterranean geckos only inhabit urban habitats (i.e. buildings) where there is a stable year-round environment. They have not demonstrated any invasive characteristics, such as displacing a native species or colonizing new habitats and therefore are not a threat to our native wildlife. The VHS is interested in tracking the movements of these geckos in Virginia. Please report any sightings to Paul Sattler
Description: 4 - 5 inches (10 - 12.7 cm) in total length. Most have an overall light or pale coloration, the dorsum is very bumpy with prominent tubercles. The toe pads are broad and extend almost the entire length of the toe.
Habits: Nocturnal, often found perched on walls around outside lights. During the day, these geckos hide in cracks, crevices, and under surface cover.
Prey Items: Include a variety of insects, spiders, and other invertebrates.
For additional on the Mediterranean Gecko in Virginia see:
Sattler, Paul. Lane, Cynthia. Harris, Kyle. 2007. Catesbeiana, Number 1, Volume 27. Status and Distribution of the Mediterranean Gecko (Hemidactylus turcicus) in Virginia.
| | |
| --- | --- |
| Common Name: | Mediterranean Gecko |
| Scientific Name: | Hemidactylus turcicus |
| Etymology: | |
| Genus: | |
| Species: | |
| Average Length: | |
| Virginia Record Length: | |
| Record length: | |
Virginia Fish and Wildlife Information Service: Species Booklet
Photos:
*Click on a thumbnail for a larger version.
| | | | | | |
| --- | --- | --- | --- | --- | --- |
| | | | | | |
| Typical Coloration | Ventral View | Normal & Dark Color Phases | | | |
| | | | | | |
| | | | | | |