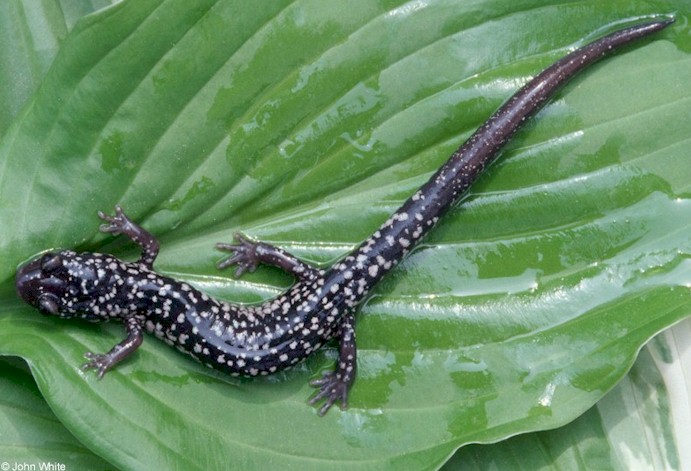 | | |
| --- | --- |
| Common Name: | White-spotted Slimy Salamander |
| Scientific Name: | Plethodon cylindraceus |
| Etymology: | |
| Genus: | plethore is Greek meaning "fullness or full of", odon is Greek for "teeth". Referring to the number of paravomerine and vomerine teeth. |
| Species: | |
| Average Length: | 4.75 - 6.75 in. (12.1 - 17.2 cm) |
| Virginia Record Length: | |
| Record length: | 8.1 in. (20.6 cm) |
Eggs are laid in or under logs and among roots, but are rarely found *1014*. In the coastal plain, females lay eggs annually in late summer or fall *1014*.
Photos:
*Click on a thumbnail for a larger version.
Verified County/City Occurrence
Albemarle County
Alexandria City
Alleghany County
Amelia County
Amherst County
Appomattox County
Arlington County
Augusta County
Bath County
Bedford County
Bland County
Botetourt County
Buchanan County
Buckingham County
Campbell County
Caroline County
Carroll County
Charles City County
Charlotte County
Chesterfield County
Clarke County
Culpeper County
Cumberland County
Danville City
Essex County
Fairfax City
Fairfax County
Fauquier County
Floyd County
Fluvanna County
Franklin County
Frederick County
Giles County
Goochland County
Grayson County
Greene County
Halifax County
Hanover County
Henrico County
Henry County
Highland County
James City County
King and Queen County
King George County
King William County
Loudoun County
Louisa County
Lunenburg County
Lynchburg City
Madison County
Mecklenburg County
Montgomery County
Nelson County
New Kent County
Nottoway County
Orange County
Page County
Patrick County
Pittsylvania County
Powhatan County
Prince Edward County
Prince William County
Pulaski County
Rappahannock County
Richmond County
Roanoke County
Rockbridge County
Rockingham County
Russell County
Salem City
Scott County
Shenandoah County
Smyth County
Spotsylvania County
Stafford County
Warren County
Washington County
Westmoreland County
Wythe County
Verified in 79 Counties/Cities.