Home | Page 2 | Page 3 | Page 4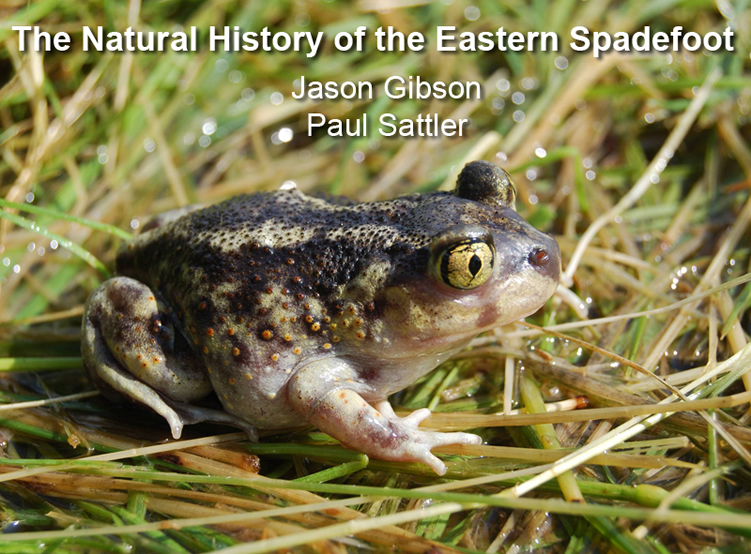 In the words of the Crocodile Hunter, "Isn't she a gorgeous animal?".  This is the Eastern Spadefoot Scaphiopus holbrookii.  The scientific name is derived from the greek skaphis "shovel or spade" and pous "foot."  Holbrookii honors the great American naturalist John Edward Holbrook.  Spadefoots appear to look like true toads but actually are classified in the family Pelobatidae.  It has vertical pupils, short snout, smooth skin with many orange, red, or black tubercles and a very small parotoid gland.  Two light dorsal stripes travel from the eye to the back of the body.  A dark spade appears on each hind foot.  They grow to be 1.5-2.5 inches in length.  Spadefoots can live in captivity for up to 12 years but natural ages have been documented for about 9 years.
| | |
| --- | --- |
| | |
| Spadefoots are a southern species with wide distribution mainly in the southern states. There are at least six species of Spadefoots in North America, but the Eastern Spadefoot is the only one east of the Mississippi River. | Very little known of its distribution in Virginia.  Is probably much more widely distributed than indicated on this map. |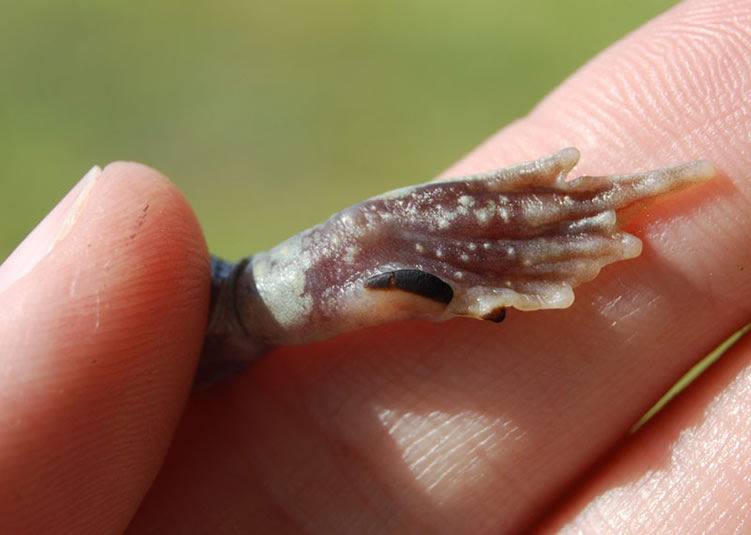 Spadefoots are classified ecologically as fossorial.  The hard spades on the hind feet are used to dig backwards into soft soils.  This is a defensive escape technique but is also used to make burrows.  Burrows can be temporary or may be used for up to 4 years.  Home ranges are around 100 square feet.

Spadefoots prefer sandy or loose soils and therefore are abundant in the coastal plain and the adjacent piedmont. Spadefoot toads are difficult to find not only because they're nocturnal, but also because they spend most of their lives underground. The ability to dig up to 2 meters underground is a great survival strategy.  Spadefoot toads are primarily western species. They are well adapted to the Great Plains because of their highly permeable skin. This allows them to survive in dry areas by digging down in moist sand and absorbing water from the surrounding soil. Spadefoots can survive severe loss of water, greater than 40% of body weight. During a long, dry period, the Spadefoot toad will go underground and excrete a fluid into the space around itself. It then curls into a tight ball, and lies dormant. The fluid hardens the earth around the toad and forms a compact den that holds whatever moisture is there. The Spadefoot toad will stay in this position until heavy rains come once again and soak deep into the ground.
Home | Page 2 | Page 3 | Page 4